The humble cauliflower is one of the most underrated and versatile veggies that can grace any dinner plate. Its dense and meaty texture makes a stunning appetizer, like bang bang cauliflower, and can transform the main course into a vegetarian feast. Packed with vitamins, fiber, and antioxidants, low-carb cauliflower can even successfully be used as a surprising ingredient in your favorite dessert!
If you've already tried cauliflower as a pizza base, rice grain alternative, or soup recipes, it's time to get creative in the kitchen with three awesome dinner party-worthy dishes…
1. Super Starter Bang Bang Cauliflower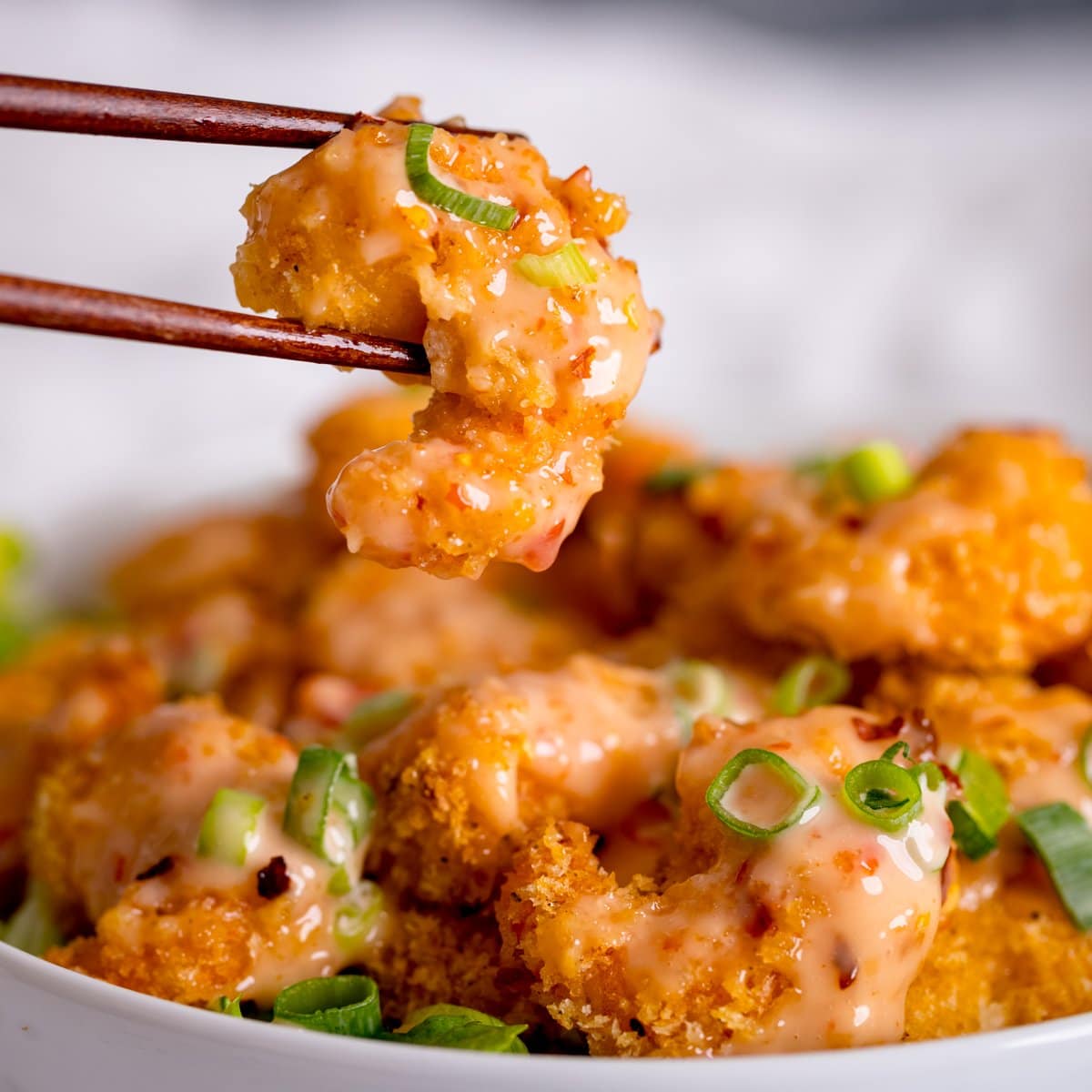 Deliciously crispy, crunchy, and moreish, bang bang cauliflower is the ultimate vegetarian appetizer, lunch option, healthy snack, or tempting bite-size party food. This vegan take on the popular Asian chicken wings street food is an absolute melt-in-the-mouth taste sensation.
The cauliflower florets are tossed in a thick, gluten-free flour and almond milk tempura-style batter before rolling around in a bowl of panko breadcrumbs until they're evenly coated.
Place the florets on a baking tray so they're not touching, and bake in the oven until golden brown and crispy. You can use almond flour in the batter for a lighter version and skip the panko crumb.
To make the speedy and wickedly addictive bang bang sauce, whip up sweet chili sauce with sriracha, the juice of a lime, and some honey in a bowl. Toss the oven-ready supreme savory cauliflower bites in the sauce, and serve immediately. Garnish with a sprinkling of freshly chopped coriander.
Bang bang cauliflower also makes a great meat replacement taco filling for a satisfying vegan-friendly lunch.
2. Main Course Cauliflower Steaks
Many people with a hearty appetite expect to tuck into a main course meal comprising steak and two veggies. Roasted cauliflower steaks served with creamy mushroom gravy and your favorite side dishes are a delicious and substantial enough alternative to satisfy hungry meat eaters and Brassica haters alike.
The 'steak' element in a plant-based meal refers to how the key ingredient is cut and prepared. Unlike the bang bang cauliflower recipe that required the cauliflower to be cut into florets, slicing the cauliflower head through the stem produces several thick, steak-like pieces. Use your sharpest knife to cut steaks that are 1 1/2 inches thick. Save the florets that break off for another tasty cauliflower-based recipe.
Place the steaks on a baking tray, season with salt, pepper, and garlic powder, and drizzle with olive oil. As you're serving the vegan steak with mushroom sauce, there's no need for additional fancy flavorings. Roast the cauliflower steaks for 15-20 minutes or until golden brown on both sides. The edges should be caramelized and crispy.
The intensely umami-umami-flavored mushroom gravy is made with dried porcini mushrooms that you need to soak in hot water to rehydrate – (reserve the liquid for later)—Fry diced onion and sliced fresh mushrooms in a little olive oil and season with garlic salt. Chop the porcini mushrooms and add the reserved mushroom liquid and arrowroot powder to the mixture with vegetable stock. Simmer until slightly thickened.
You can blend the mushroom gravy if you prefer a smooth, silky texture for your sauce or serve it as it is. To make this flavorsome, healthy, low-carb, meat-free meal comfort food inviting, smother the cauliflower steaks with the rich gravy and serve with creamy mashed potatoes and a side of green beans.
The next time you make this low-carb, meat-free main course, feel free to experiment with Indian spices, Mexican chili seasoning, or a variety of your favorite herbs.
3. Indulgent Cauliflower Chocolate Pudding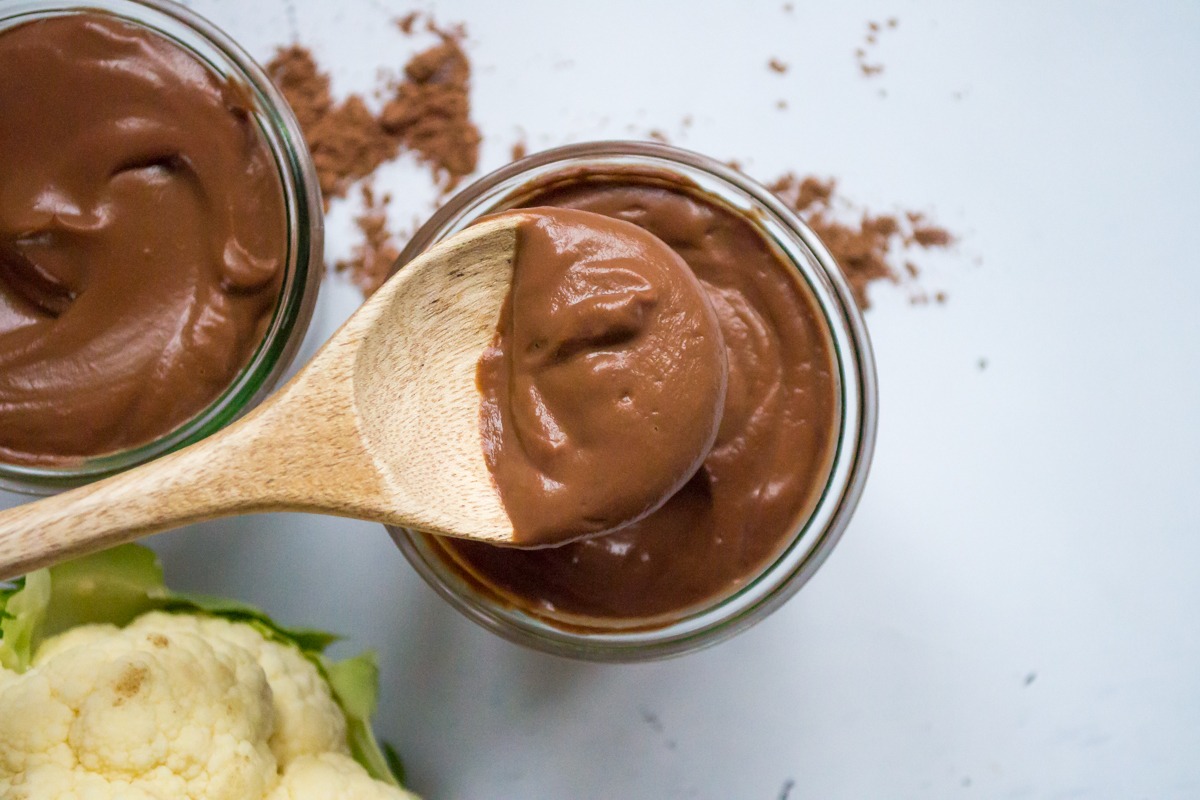 The fact that the taste of cooked cauliflower is pretty bland gives this versatile vegetable an advantage when looking for an interesting new way to end a three-course meal and surprise your dinner guests. If you love moist and delicious carrot cake, a rich, creamy, and indulgent chocolate pudding containing vitamin-packed cauliflower is a sweet treat you won't miss.
Low-carb, nut-free, dairy-free cauliflower chocolate pudding is naughty but nice. It will satisfy a chocolate craving while contributing to your 5-a-day quota of healthy and nutritious fruit and veg.
Steam the cauliflower until soft, then puree it to a silky-smooth texture. Add cocoa powder, vegan gelatin, vegan cream, a low-carb sugar substitute, and your favorite liquid sweetener. Lightly whip to combine all the ingredients. Pour the creamy pudding into individual serving dishes and refrigerate for 3 hours before serving.
This tempting l, luxuriously silky chocoholic dessert is the perfect end to your bang bang cauliflower starter three-course, low-carb feast. As there's no hint of cauliflower in the taste, ask your dinner guests to guess the secret rogue ingredient!